Give Us A Call
1-203-469-2683
Send Us A Text (203)-506-2330
Send a SMS
Schedule A Free Estimate Online
If You Do Not Want To Use
Our Online Estimate Scheduling Above
Then You Can Click Link Below.
Get A Free Estimate NOW!
Click Here To Go To
The Estimate Request Form Below


Pompano Services LLC Provides complete gutter cleaning, gutter repair and maintenance services.

We provide services to Residential Homes, Commercial Businesses, Store Fronts, Schools, Home Owner Associations,
Condominium Associations, Property Management Companies, Realtors and More.

Ask and join our Gutter Maintenance Program and never worry about cleaning your gutters again.
Gutter Cleaning & Maintenance.
Pompano Services reliable gutter cleaning service gives you the peace of mind
that your gutter system will be properly cleaned and maintained.
Our maintenance program insures you year round protection that your gutter system
will remain debris free and flow properly.
A spring and fall gutter cleaning should be a priority for homeowners.
Homes with heavy tree coverage may need 2 or more visits per year

Gutter Cleaning Service Includes

* Free gutter inspection.

* Removing all debris from gutters and downspouts.

* Secure and tighten any lose hardware and brackets..

* Flushing your gutters and downspouts with water to insure proper flow
and drainage away from your home.

* Taking all the debris away leaving you with nothing to clean up.

* Provide you, the home or business owner, with inspection notes and results.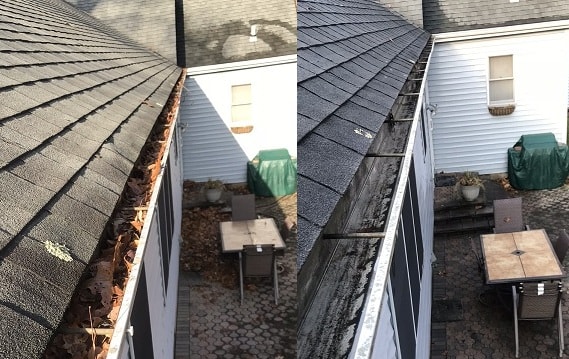 Gutter Maintenance helps
PREVENT and REDUCE costly problems.
Such As:
Sagging Gutters
Gutters Detaching From Your Home
Fascia Board Rotting
Concrete and Driveway Erosion
Landscape Erosion
Water Getting Into Your Basement
Water Penetrating Into Your Ceilings, Walls, Attics And Roof
Prevents Mold, Fungus And Virus Growth
Prevents Nesting Of Mosquitoes, Spiders, And Bee's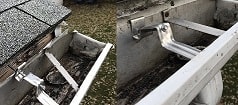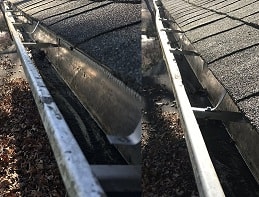 Gutter Repair Service

Our gutter repair services include:
Caulking Gutter Seams & Joints
Installing New Downspouts
Install New Elbows and Brackets
installing new drip edges
Reroute gutters away from foundations
in order to alleviate standing water
Replace old gutter spike nails with modern gutter hangers.
Gutter System Inspection
During the initial gutter cleaning, an inspection is performed noting any loose
or missing hardware, leaks, cracks, breaks or poor drainage and poor functionality.