Give Us A Call
1-203-469-2683
Send Us A Text (203)-506-2330
Send a SMS
Schedule A Free Estimate Online
If You Do Not Want To Use
Our Online Estimate Scheduling Above
Then You Can Click Link Below.
Get A Free Estimate NOW!
Click Here To Go To
The Estimate Request Form Below


Pompano Services LLC Provides Professional Rust Stain Removal & Restoration Services.

We provide services to Residential Homes, Commercial Businesses, Store Fronts, Schools, Home Owner Associations,
Condominium Associations, Property Management Companies, Realtors and More.

Join Our Maintenance Program and never worry about cleaning your exterior property again.
RUST STAIN REMOVAL SERVICES Connecticut
Rust Stains are the most difficult stains to remove from exterior Homes or Business properties

Rust is notorious for embedding itself deep into homes siding, concrete, roofs, exterior trim, business signs,
entry ways and other surfaces.

Rust can ruin the curb appeal of your home or business. At Pompano Services we specialize in exterior rust removal.
Let us help restore all your exterior surfaces thereby restoring your curb appeal and bringing back the
WOW factor to your home or business.

We Can Remove Rust from All Exterior Surfaces.
Pompano Services uses a professional line of products called F9, specifically designed for Rust Removal and Restoration.
Power Washing alone will not remove rust stains.
At Pompano Services, we have the knowledge, training and experience to clean every surface.
We can remove rust from:
Concrete
Sidewalks
Driveways
Garage Floors
Bricks
Pavers
Tiles
Stone
Stucco
Asphalt
Vinyl Siding
Aluminum Siding
Aluminum Trim
Roof Shingles
Rubber
Chimneys
And More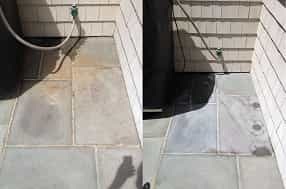 Metal Objects subjected to Moisture Will Create Rusting.
Rust Stains are caused by the following:

Irrigation Systems
Lawn fertilizer
Metal Lawn furniture, Architectural pieces
Metal Shovels or any metal left on Concrete surfaces
Metal Chimney Caps

Battery Acid: Even though Battery Acid is not an actual rust stain It resembles a rust-like look.
Common causes of battery acid stains are
Leaking Batteries
Lawn Equipment
Golf Carts
Car Batteries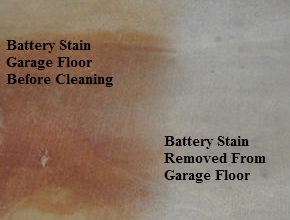 Gutter Repair Service

Our gutter repair services include:
Caulking Gutter Seams & Joints
Installing New Downspouts
Install New Elbows and Brackets
installing new drip edges
Reroute gutters away from foundations
in order to alleviate standing water
Replace old gutter spike nails with modern gutter hangers.
Gutter System Inspection
During the initial gutter cleaning, an inspection is performed noting any loose
or missing hardware, leaks, cracks, breaks or poor drainage and poor functionality.